Deceleration of probe beam by stage bias potential improves resolution of serial block-face scanning electron microscopic images
Advanced Structural and Chemical Imaging
2016
2:11
Received: 20 July 2016
Accepted: 9 September 2016
Published: 15 September 2016
Abstract
Serial block-face scanning electron microscopy (SBEM) is quickly becoming an important imaging tool to explore three-dimensional biological structure across spatial scales. At probe-beam-electron energies of 2.0 keV or lower, the axial resolution should improve, because there is less primary electron penetration into the block face. More specifically, at these lower energies, the interaction volume is much smaller, and therefore, surface detail is more highly resolved. However, the backscattered electron yield for metal contrast agents and the backscattered electron detector sensitivity are both sub-optimal at these lower energies, thus negating the gain in axial resolution. We found that the application of a negative voltage (reversal potential) applied to a modified SBEM stage creates a tunable electric field at the sample. This field can be used to decrease the probe-beam-landing energy and, at the same time, alter the trajectory of the signal to increase the signal collected by the detector. With decelerated low landing-energy electrons, we observed that the probe-beam-electron-penetration depth was reduced to less than 30 nm in epoxy-embedded biological specimens. Concurrently, a large increase in recorded signal occurred due to the re-acceleration of BSEs in the bias field towards the objective pole piece where the detector is located. By tuning the bias field, we were able to manipulate the trajectories of the primary and secondary electrons, enabling the spatial discrimination of these signals using an advanced ring-type BSE detector configuration or a standard monolithic BSE detector coupled with a blocking aperture.
Keywords
SBEMDecelerationSEMVolume reconstructionSerial sectionCerebellumBackscatter electron detector
Background
Serial block-face scanning electron microscopy (SBEM) has proved to be a remarkable technique for imaging at moderate lateral and axial resolution (approximately 10 and 40 nm, respectively) and across large fields of view spanning many hundreds of microns of sample. This technique is elucidating processes, where selectively stained cells within large fields of view can be found [1–3] and small details can be followed across multi-scale dimensions. It has been especially useful in neuron tracking across large distances [4]. One SBEM study that tracked mitophagy events from neurons in their neighboring astrocytes [5], in particular, has fundamentally changed how scientists look at the role played by astrocytes in glaucoma.
The SBEM platform is comprised of an ultramicrotome embedded within the scanning electron microscope (SEM) chamber. Originally conceived by Leighton [6], use of this imaging technique has become mainstream, because of an automated platform to collect 3D volumes developed by Denk and Horstmann [7]. With SBEM, the embedded microtome removes ~30–80-nm-thick sections from the sample block mounted on a fixed rivet. With each "slice", the electron-beam raster scans the newly exposed block face, and the BSEs are collected to create an image. A 3D volume is obtained by stacking the images of the block face obtained after each microtomy cycle.
The platform improved by Denk and Horstmann was commercialized by Gatan, Inc., as the 3View system. The latter has been integrated into multiple SEM platforms across manufacturers and features full computer automation. In 2015, a competing SBEM platform, the Teneo VS, was released by FEI Company.
The focused ion beam milling technique (FIB-SEM) is analogous to SBEM, but the block face is vaporized by bombardment by heavy ions to remove subsequent layers of sample [8, 9]. As with SBEM, FIB-SEM backscattered electron images are collected after each bombardment and stacked to form a 3D reconstruction.
In spite of their different methods for removing the exposed block face, SBEM and FIB-SBEM use SEM backscattered electron imaging, and thus, improvements in preparing specimens and detectors are germane to both technologies. In this study, we concentrated on determining the theoretical and experimental factors in BSE collection critical to further improvements, particularly using primary beam reversal potentials to improve detection efficiency and image resolution.
It has long been known that applying a negative potential to the sample reduces beam-landing energies and, thereby, reduces beam damage to the specimen and improves surface detail. This understanding informed the design of the low-energy electron microscope (LEEM) [10, 11]. LEEM has supported complex studies in materials science [12–15]. However, in LEEM, the sample is generally irradiated with a flood beam and uses complex instrumentation of magnetic sector plates to separate electrons leaving the sample from the primary beam. There have been only a few studies of stage bias in a conventional SEM and, specifically, its relevance to imaging biological samples [9, 16, 17]. For imaging biological samples, secondary electron (SE) signal generally provides unsatisfactory contrast. BSE imaging, however, provides a clear contrast between the heavy-metal stain and unstained structures [7]. It was been pointed out that, although beam deceleration in SBEM improves the contrast and resolution of the BSE image, it also leads to severe image artifacts whose cause is unclear [9]. We believe that, to enable more widespread use of the beam-deceleration techniques in SBEM, a comprehensive study of its advantages and pitfalls is needed. This manuscript tries to address these issues.
Methods
Specimen mounting
Small (1 mm × 1 mm × 0.5 mm) pieces of resin-embedded tissues were mounted on aluminum specimen pins (Gatan, Inc., Pleasanton, CA, USA) using cyanoacrylic glue and precision trimmed with a glass knife to a rectangle approximately 0.5 mm × 1.0 mm, so that tissue was exposed on all four sides. Silver paint (Ted Pella, Inc., Redding, CA, USA, http://www.tedpella.com) was used to electrically ground the edges of the tissue block to the aluminum pin, taking care not to get paint on the block face or edges of the embedded tissue to be sectioned. The entire specimen was then sputter coated with a thin layer of gold/palladium. After the top layer of gold/palladium block was removed by the ultramicrotome, the tissue morphology became visible by BSE imaging. The remaining coating on the edges of the block served to reduce charging and did not interfere with imaging.
Implementing the stage bias potential on two SEM/3View platforms
The initial experiments using stage biasing to achieve deceleration were performed on a FEI Quanta 200 FEG scanning electron microscope on loan from FEI. The Quanta FEG was equipped with a high-precision dc power supply to apply a negative-bias potential to the sample. The Quanta FEG was also equipped with a 3View system from Gatan, Inc. The backscatter electron detectors (BSDs) included a monolithic backscatter electron diode detector from Gatan, Inc., as well as a concentric backscatter (CBS) detector from FEI.
These two backscatter detectors are both approximately 9 mm in diameter and include a 1-mm central hole to allow the probe beam to pass through. The two detectors were also positioned to subtend a similar solid angle for BSEs.
The monolithic BSE detector from Gatan, Inc., was read out, though a single output into the amplification and digitization circuitry. The FEI CBS detector, on the other hand, reads signals from the concentric rings of active regions through four individually configurable amplifiers. The geometry of this device allows for the spatial differentiation of signal (i.e., signal reaching the inner vs. the outer rings is read out separately). When used in conjunction with a biasing field, this device is advantageous, as it allows for the ability to spatially discriminate SE from BSE signals (e.g., to eliminate SE signal contamination when performing BSE imaging).
A similar strategy for signal differentiation was implemented on a Zeiss Sigma variable-pressure SEM platform equipped with a Gatan 3View system and a monolithic BSE detector. Gatan, Inc., also provided a high-precision dc power supply to bias the sample potential with a stable and accurate negative voltage. In this case, we used a custom-made aperture to block unwanted SEs from striking the BSE detector and polluting the BSE signal. The SE-blocking aperture was machined to our specifications as determined by the gun-acceleration potential, the negative-bias potential, and the working distance. The blocking aperture was attached to the grounded shielding of the Gatan BSE detector using silver paint (Ted Pella, Inc.) and suspended above the detector by thin wires.
To apply a bias voltage to the sample, we implemented modifications to electrically isolate the microtome and the sample. The 3View ultramicrotomes on both platforms were modified by machining an insulating ceramic holder that mounts where a metal holder usually sits. The sample holder and sample pin were electrically conductive and connected to a highly stable, adjustable dc voltage source. A variable-bias voltage of 0 to −5000 V could then be applied to the sample. Figure
1
shows the setup for the various modes of operation: without deceleration using a monolithic BSE detector, with deceleration using the monolithic BSE detector, with deceleration using the CBS detector, and with deceleration operating with a monolithic BSE detector and an SE-blocking aperture. Illustrations of the SE and BSE trajectories as affected by the biasing electric fields are shown along with the illustrations of the equipotential lines during sample biasing.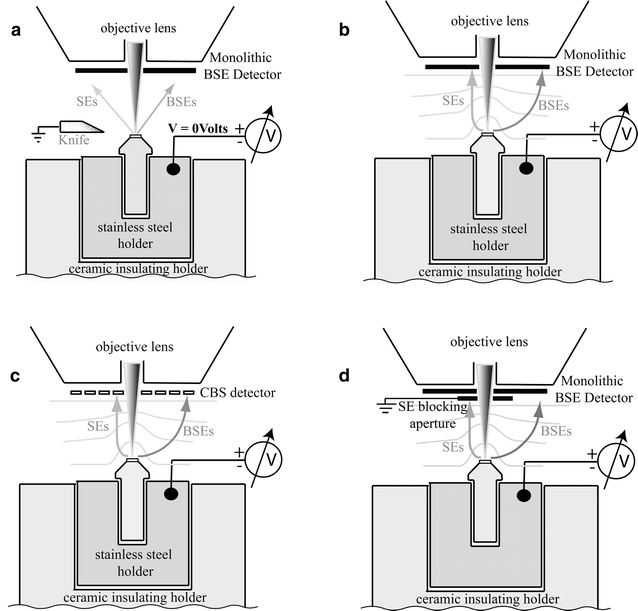 The metal-stained samples used in these experiments are geometrically complex: They are composed of part plastic insulator and part heavy-metal-stained tissue with a multitude of densities. As a result, accurate calculations of sample permittivity (the ability of a substance to store electrical energy) are quite difficult to model and, thus, need to be determined experimentally. To do this, we used a special gold electrode tacked to the plastic-embedded sample surface with silver paint to verify the voltage on the sample surface. To confirm that the voltage source was outputting the correct values, we connected an electrode to the sample-mounting pin. The output voltage measured at the aluminum sample pin was confirmed to be accurate to within 99.2 % of the requested output voltage. Once we verified the output voltage from the source, we tested the voltage at the surface of the plastic-embedded block as a function of voltage applied to the aluminum pin (the measured surface potential as a function of applied voltage for each block is presented in Fig.
2
), and the electron-landing energy was then matched with the appropriate electron-landing-energy, penetration depth, and cutting thickness settings.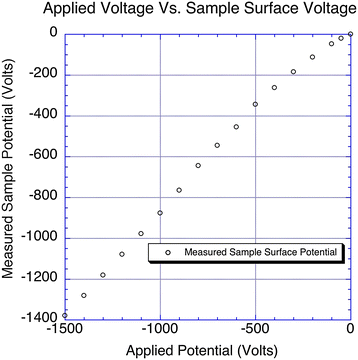 Conclusion
This study demonstrates that using beam deceleration in the SBEM results in higher quality images. Thinner axial-penetration depth achieved with probe-beam deceleration improved axial resolution. A remarkable increase in total signal collection of 20-fold or higher was produced with the use of relatively low-deceleration potentials as compared with the conventional SEM imaging using the same landing energies. This increase in signal allowed for much lower interrogation currents on the sample, resulting in improved sample-sectioning properties.
Here, we demonstrated a procedure that mitigates the degradation of the image quality resulting from low-energy SEs when using deceleration. By removing SEs from the images, using the FEI concentric backscatter detector or a simple SE-blocking aperture in a monolithic detector, beam deceleration becomes a feasible approach to achieve limited penetration depths with sufficient sample and imaging stability to produce large volumes of data. Additional improvements in sample preparation, particularly the use of conductive epoxy resins formulated for SBEM, should improve the technique of beam deceleration by producing uniform electric fields at the sample surface and reducing surface-charging effects.
We believe that this study demonstrates the first of many improvements that can be made to SBEM imaging. We observed drift in image position, astigmatism, and focus changes, so these artifacts still represent challenges that need to be addressed to optimize volume quality. We found, however, that these were not significant obstacles at lower deceleration voltages, and we now believe that, with improved system geometry and the addition of autofocus software now available from Gatan, these instabilities can be addressed easily, enabling significant improvements in volumetric reconstructions.
Abbreviations
SBEM:

serial block-face scanning electron microscopy
BSE:

backscattered electron
BSD:

backscattered electron detector
SE:

secondary electrons
Declarations
Authors' contributions
JB, SP, and ME designed the experiments. JB performed the experiments and analyzed the data. TD and EB helped with sample preparation. RR performed the Monte Carlo simulations. VA helped with data processing. JB, RR, SP and ME wrote the paper. All authors read and approved the final manuscript.
Acknowledgements
This work was supported by a grant from the NIH National Institute of General Medical Sciences under award number P41GM103412 to Mark H. Ellisman, to operate the National Center for Microscopy and Imaging Research. The authors would like to acknowledge Gatan, FEI Company, and Carl Zeiss for loan of SBEM equipment used in this study.
Competing interests
The authors declare that they have no competing interests.
Open AccessThis article is distributed under the terms of the Creative Commons Attribution 4.0 International License (http://creativecommons.org/licenses/by/4.0/), which permits unrestricted use, distribution, and reproduction in any medium, provided you give appropriate credit to the original author(s) and the source, provide a link to the Creative Commons license, and indicate if changes were made.
Authors' Affiliations
(1)
National Center for Microscopy and Imaging Research, University of California at San Diego, La Jolla, USA